Through outreach and lending programs, UIMA has found a way to thrive after being displaced by 2008 flood.
Since June 2008, the University of Iowa Museum of Art (UIMA) has been a museum without a home. Though it has faced many challenges since floodwaters forced the UIMA from its original building along the Iowa River, officials have found a way for the museum to thrive while thinking—and living—outside the box.
In the years since the flood, UIMA has offered just about everything it can outside of the experience of actually being in its own building. The silver lining in all of the post-flood struggles is evident in the museum's new approach of extensive outreach across the state of Iowa, the country, and around the world.
The most famous piece in UIMA's permanent collection is Jackson Pollock's Mural—and it has been in high demand over the past nine years.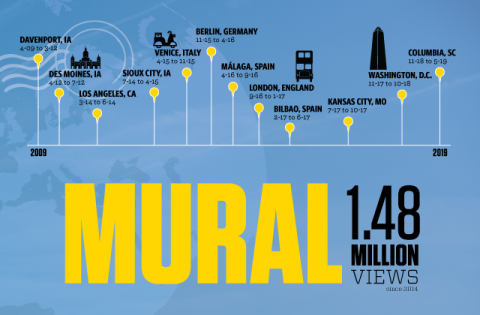 After the flood, Mural was displayed at the Figge for three years and later at the Des Moines Art Center. From there, Mural went to the Getty Conservation Institute in Los Angeles for a two-year research and conservation process. Since then, Mural has become remarkably well traveled.
The painting first was displayed post conservation at the J. Paul Getty Museum in Los Angeles before making a stop back in Iowa at the Sioux City Art Center. After that, it went on a five-city tour through Europe.
In the three years since undergoing the conservation process, Mural has been the subject of three books and connected UIMA with 1.48 million museum-goers.